SLINTEC Delegation on productive visit to Melbourne
March 20, 2018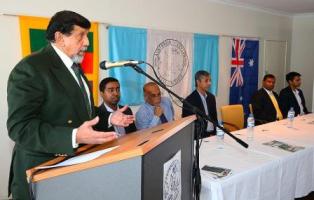 A delegation from the Sri Lanka Institute of Nanotechnology (SLINTEC), headed by Mr. Harin de Silva Wijeyeratne, Chief Executive Officer, and comprising Professor Gehan Amaratunga, Chief of Research & Innovation, Dr. Shehan De Silva, Senior Scientist/Head of Strategic Planning, and Dr. Lakshitha Pahalagedera, Head of Business Development, undertook a successful visit to Melbourne from 12 to 15 March 2018.
During the visit, the delegation visited the relevant faculties and centres at Universities of Melbourne, Monash, RMIT, La Trobe and Deakin, and had fruitful discussions with academics and professionals on mutual cooperation in a number of important areas of nanotechnology as well as possible future collaboration and exchanges between the Universities and the SLINTEC. The delegation also visited the Melbourne Centre for Nanofabrication (MCN) and Commonwealth Scientific and Industrial Research Organisation (CSIRO), and exchanged views on cooperation and shared experiences in application of nanotechnology in Industry.
The delegation further interacted with a cross section of Sri Lankan expatriate community leaders, professionals and academics at the Australia-Ceylon Fellowship Centre on 14 March 2018, in an extremely constructive dialogue to seek possible support of the expatriate community to strengthen the of capabilities of SLINTEC and its Endowment Trust Fund, which is the basis for securing an operational funding line to support Science, Engineering and Technology in Sri Lanka.  At this event, the delegation highlighted the strategies and directions of SLINTEC and the areas where expatriate community can assist the Institution and the industry. Chairing the meeting, Sri Lanka's High Commissioner in Australia Somasundaram Skandakumar requested the expatriate community to strengthen SLINTEC and highlighted the importance of research and innovation, emphasising the vital role that nanotechnology plays in product development.
The meetings and the community event were arranged by the Consulate General of Sri Lanka in Melbourne.
Consulate General of Sri Lanka
Melbourne
15th March 2018