Colombo Plan Scholars visit Sri Lanka High Commission, Canberra
April 20, 2022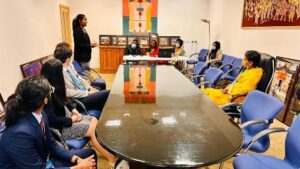 An event was held at the Sri Lanka High Commission, Canberra on 14th April, 2022 to welcome Colombo Plan Scholars who will pursue studies in Sri Lanka under New Colombo Plan Programme.
The New Colombo Plan Programme annually provides around 10,000 undergraduates to study and undertake internship in 40 countries across Asia and Pacific regions.
Addressing the gathering, Actg. High Commissioner thanked Colombo Plan Scholars for choosing Sri Lanka for the study programme.  Highlighting the longstanding bilateral relations between Sri Lanka-Australia, she said Sri Lanka maintains close relations with Australia since independence and Ceylon and Australia took initiatives to set up Colombo Plan.  In 1951, then Finance Minister of Sri Lanka, J.R. Jayawardena and Australia's Foreign Minister, Sir Percy Spender took initiative in suggesting regional organization for economic developments.
Joshua Gulli from Deakin University who is going to the University of Peradeniya stated that this would be his first visit to Sri Lanka and he is excited to visit small but diverse island. "Besides its natural resources, the island can show evidence of 25 centuries of continuous civilization and culture" he added.  Harine Somasundaram whose parents are from Jaffna shared her pleasant memories in Sri Lanka and said it was an honour for her to be part of the event at the High Commission especially during Sinhala and Tamil New Year day.
The programme included Power Point Presentation on Sri Lanka, screening of a video on touristic attractions in the country and welcoming the Sinhala & Tamil New Year with tasting new year meal.   The participants enjoyed traditional new year food and sweets prepared by the staff of the High Commission.
The Colombo Plan supports its member countries to enhance social economic development through educational programmes over 70 years.
Sri Lanka High Commission
Canberra
19 April 2022