High Commission  hosts the first "Wes Mangallaya Ceremony", in Canberra
November 4, 2022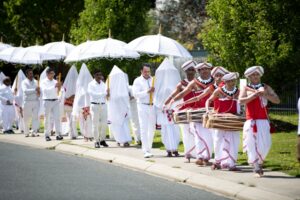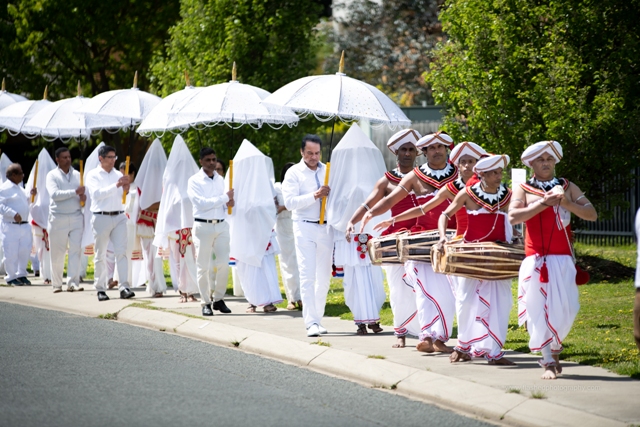 The Sri Lanka High Commission hosted the first 'Wes Mangallaya ceremony', in Canberrra organised by the Bhagya School of Dance (BDS) on 15 October 2022 at the Sri Lanka High Commission Premises.
Ten students of the BDS who were qualified for the highest status of a Kandyan Dancer, adorned the sacred Wes attire and gave outstanding inaugural performances at the 'Wes Mangallaya' following the religious ceremony held at the Canberra Buddhist temple. Traditional drummers were flown in from Sri Lanka for this event.
Over 400 Australians and Sri Lankan expatriates gathered to witness this unique cultural ceremony which brought centuries old traditions and rituals of the Kandyan dancing form. Member of Parliament (Labour) Dr. Marisa Paterson and veteran Sri Lankan musician Dr. Rohana Weerasinghe were among the distinguished guests.
While thanking BDS for promoting Sri Lankan culture and traditions in the multicultural Australian society, the Acting High Commissioner stated that the first 'Wes Mangallaya ceremony' coincided with the 75th Anniversary of the establishment of diplomatic relations between Australia and Sri Lanka. She added that the Sri Lanka High Commission supports the initiatives of Sri Lankan expatriates in Australia to promote Sri Lankan culture and pointed out that the 'Kandyan Wes Dancer is a cultural export symbol of Sri Lanka.
The High Commission continues to encourage and support community organizations to promote Sri Lankan culture and tourism through various events.
Sri Lanka High Commission Canberra
03 November, 2022