Illumination of the Australian National Monuments to celebrate 75th Anniversary of Sri Lanka's Independence – Winner of the Photographic Competition, Heshan Bandara
April 26, 2023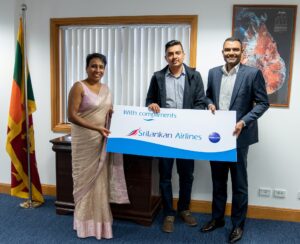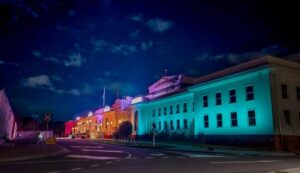 Heshan Bandara, the winner of the photographic competition held during the illumination of iconic Australian National monuments to mark the 75th Anniversary of Sri Lanka's Independence & the 75th Anniversary of the establishment of diplomatic relations between Australia and Sri Lanka received the prize at a ceremony held in the Sri Lanka High Commission recently. He was presented a return air ticket by the Sri Lankan Airlines, sponsor of this photographic competition.
Photographs were selected by a panel comprising a representative from the High Commission, Sri Lankan Airlines and a professional in the field of photography in Sri Lanka. The winning photograph of Heshan Bandara from Canberra fulfilled all the important elements required in a professional photograph.
While congratulating the winner, the Deputy High Commissioner Chamari Rodrigo thanked him for participating in the competition which was supported by Sri Lankan expatriates in Australia through social media. Sales Manager of Sri Lankan Airlines Sakura Wijethilaka, a group of students from 'Australia Awards' and officials of the High Commission attended the presentation ceremony.
This was the first time that a large number of Australia National monuments have together been illuminated with the Sri Lankan flag colours in Canberra, Perth, Melbourne and Brisbane.
High Commission of Sri Lanka
Canberra
25 April 2023