The High Commissioner calls on the Minister of Home Affairs, Australia
June 1, 2023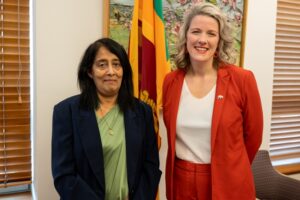 The High Commissioner calls on the Minister of Home Affairs, Australia The High Commissioner for Sri Lanka in Australia, Chitranganee Wagiswara paid a courtesy call on the Minister of Home Affairs of Australia Clare O'Neil on 30 May 2023 at her office in the Federal Parliament. While appreciating the opportunity to meet with the Minister, the High Commissioner thanked the people and the government of Australia for their invaluable assistance to Sri Lanka to meet urgent food and healthcare needs.
In response to the Minister's query on the current situation in the country, the High Commissioner apprised the Minister in detail on the progress made towards recovery and the initiatives being taken to address the challenges.
It was noted that the Minister's first visit outside Australia soon after the General Election was to Sri Lanka which demonstrates the fact that Sri Lanka is an important partner and, she commented that Australia was confident that Sri Lanka would overcome the economic and political challenges faced last year. Minister further stated that Australia values and is grateful to Sri Lanka for the work and, an excellent cooperation extended to the Australian authorities in terms of border controlling issues.
The need of convening the 'Defence Talks' which will provide an opportunity to discuss important areas of mutual interest in addition to the existing defence cooperation was also emphasised.
The two sides discussed the upcoming 'Political consultations' which is scheduled to be held in Sri Lanka in mid-July this year. In connection with the recent immigration policy review by Australia, an arrangement for more employment opportunities for Sri Lanka especially semi-skilled workers (similar to 'seasonal workers programme' for the Pacific Islands) was discussed. In terms of Tourism, further relaxing the 'Travel Advisory' on Sri Lanka was also brought to the attention of Minister O'Neil.
The Deputy High Commissioner Chamari Rodrigo and the Counsellor (Defence) Capt. S. Kathriarachchi of the Sri Lanka High Commission and senior officials of the Department of Home Affairs also participated in the meeting.
Sri Lanka High Commission
Canberra
31 May 2023